Jefferson in Paris (Touchstone Movie)
Here is everything you need to know about the amazing Touchstone movie Jefferson in Paris including casting, reviews, fun facts and more. I hope you find this listing informative and helpful!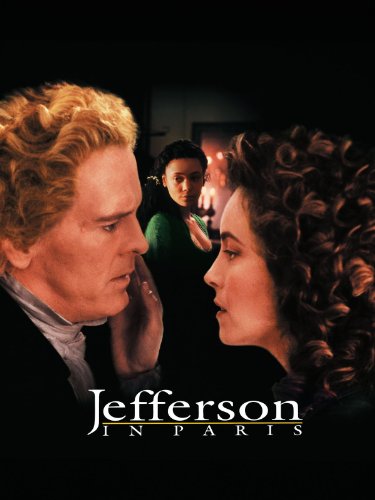 Jefferson in Paris Details:
Hollywood favorite Nick Nolte stars with the sexy Greta Scacchi in this impassioned story of forbidden love! During one man's unforgettable visit to liberal and socially permissive France, he meets and falls in love with a worldly and mysterious woman! But when the alluring charms of another prove irresistible, he finds himself courting scandal in a heated triangle of passion and desire!
Key Cast:
Nick Nolte: Thomas Jefferson
Gwyneth Paltrow: Patsy Jefferson
Estelle Eonnet: Polly Jefferson
Thandie Newton: Sally Hemings
Seth Gilliam: James Hemings
Todd Boyce: William Short
Nigel Whitmey: John Trumbull
Nicolas Silberg: Monsieur Petit
Catherine Samie: Cook
Lionel Robert: Cook's Helper
Greta Scacchi: Maria Cosway
Simon Callow: Richard Cosway
Lambert Wilson: Marquis de Lafayette
Elsa Zylberstein: Adrienne de Lafayette
William Moseley: George Washington de Lafayette
Jean-Pierre Aumont: d'Hancarville
Anthony Valentine: British Ambassador
Michael Lonsdale: Louis XVI
Charlotte de Turckheim: Marie-Antoinette
Damien Groëlle: The Dauphin
Louise Balsan: Madame Royal
Valérie Toledano: Madame Elizabeth
Vernon Dobtcheff: King's Translator
At the Panthémont Abbey
Nancy Marchand: Madame Abbesse
Jessica Lloyd: Julia
Daniel Mesguich: Mesmer
Thibault de Montalembert: Assistant
William Christie: Conductor
Jean-Paul Fouchécourt: Dardanus
Ismail Merchant: Tipoo Sultin's Ambassador
Vincent Cassel: Camille Desmoulins
James Earl Jones: Madison Hemings
Beatrice Winde: Mary Hemings
Tim Choate: Reporter
Key Crew:
Director: James Ivory
Producers: Isnail Merchant, Humbert Balsan, Paul Bradley and Donald Rosenfeld
Writer: Ruth Prawer Jhabvala
---
Related Articles:
---