John Carter (2012 Movie)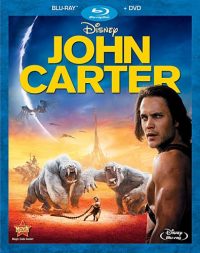 John Carter Description:
A sweeping action-adventure set on the mysterious and exotic planet of Barsoom (Mars). John Carter is a war-weary, former military captain who's inexplicably transported to Mars and reluctantly becomes embroiled in an epic conflict. It's a world on the brink of collapse, and Carter rediscovers his humanity when he realizes the survival of Barsoom and its people rests in his hands.
Key Cast Members:
Taylor Kitsch: John Carter
Bryan Cranston: Colonel Powell
Daryl Sabara: Edgar Rice Burroughs
Don Stark: Dix
Nicholas Woodeson: Dalton
Lynn Collins: Dejah Thoris
Dominic West: Sab Than
Ciarán Hinds: Tardos Mors
James Purefoy: Kantos Kan
Art Malik: Zodangan General
Willem Dafoe: Tars Tarkas
Samantha Morton: Sola
Polly Walker: Sarkoja.
David Schwimmer: young Thark Warrior
Jon Favreau: the Thark bookmaker
Mark Strong: Matai Shang
Phil Cheadle: Thern in Cave
Philip Philmar: Thern #1
James Embree: Thern #2
Movie Trailer
---
Disney Character(s) in this Post:
John Carter