Judge Dredd (Hollywood Pictures Movie)
Here is everything you need to know about the amazing Hollywood Pictures movie Judge Dredd including casting, reviews, fun facts and more. I hope you find this listing informative and helpful!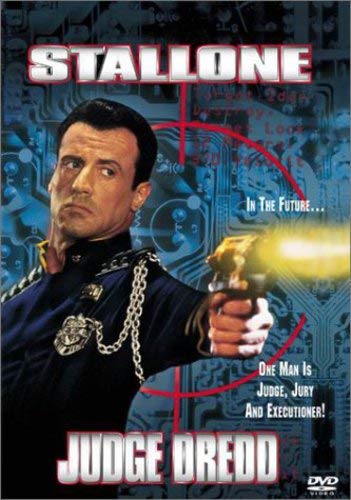 Judge Dredd Details:
In a time when all-powerful and coldly efficient "Judges" act with the supreme authority of both the police force and legal system, Judge Dredd (Sylvester Stallone) is the most feared law enforcer of them all. But when a former Judge (Armand Assante) hatches a sinister plot to overthrow the government and eliminate the Judges, Dredd is framed for murder! Get ready for an explosive action-adventure thrill ride as Dredd does whatever it takes to restore justice!
Key Cast:
Sylvester Stallone: Judge Joseph Dredd
Armand Assante: Rico Dredd
Rob Schneider: Herman "Fergie" Fergusson
Diane Lane: Judge Barbara Hershey
Jürgen Prochnow: Judge Griffin
Max von Sydow: Chief Justice Fargo
Joanna Miles: Judge McGruder
Joan Chen: Dr. Ilsa Hayden
Balthazar Getty: Cadet Nathan Olmeyer
Maurice Roëves: Warden Miller
Ian Dury: Geiger
Mitchell Ryan: Vartis Hammond
Bradley Lavelle: Chief Judge Hunter
Lex Daniel: Brisco, a rookie cadet
Scott Wilson: Pa Angel
Christopher Adamson: Mean Machine Angel
Ewen Bremner: Junior Angel
Phil Smeeton: Link Angel
Peter Marinker: Judge Carlos Esposito
Angus MacInnes: Judge Silver
Mark Moraghan: Judge Monroe
Al Sapienza: Judge Gellar
Key Crew:
Director: Danny Cannon
Producers: Edward Pressman, Charles Lippincott and Beau Marks
Screenplay: William Wisher and Steven de Souza
Song: Alan Silvestri