Jungle 2 Jungle (1997 Movie)
Last Updated on: June 7th, 2022
Here is everything you need to know about the amazing Disney movie Jungle 2 Jungle including casting, reviews, fun facts and more. I hope you find this listing informative and helpful!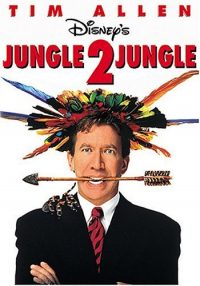 Jungle 2 Jungle Description:
Tim Allen is at it again as commodities broker Michael Cromwell, king of the Wall Street jungle. With money, power, and an engagement to a beautiful fashion designer, he has it all. But when Michael travels to the Amazon to finalize the divorce from his first wife — a jungle doctor — she reveals that he also has a blowdart-shooting, giant-spider-carrying, 13-year-old son, Mimi-Siku. Cultures clash when Mimi is entrusted by his tribal chief to bring back fire from the Statue of Liberty. Back home in New York, Michael must somehow convince Mimi that pets are not for eating and it's not nice to chase people with your killer spider. But when Michael's partner (Martin Short) crosses a Russian mob boss in a coffee bean deal, Mimi and Michael must use all their jungle skills in a hysterical father/son rescue.!
Key Cast Members:
Tim Allen: Michael Cromwell
Martin Short: Richard Kempster
Sam Huntington: Mimi-Siku Cromwell
JoBeth Williams: Dr. Patricia Cromwell
Lolita Davidovich: Charlotte
David Ogden Stiers: Alexei Jovanovic
Valerie Mahaffey: Jan Kempster
Leelee Sobieski: Karen Kempster
Luis Avalos: Abe
Frankie J. Galasso: Andrew Kempster
Carole Shelley: Fiona Glockman
Bob Dishy: George Langston
Dominic Keating: Ian
Rondi Reed: Sarah
Oni Faida Lampley: Madeleine