Krippendorf's Tribe (Touchstone Movie)
Here is everything you need to know about the amazing Touchstone movie Krippendorf's Tribe including casting, reviews, fun facts and more. I hope you find this listing informative and helpful!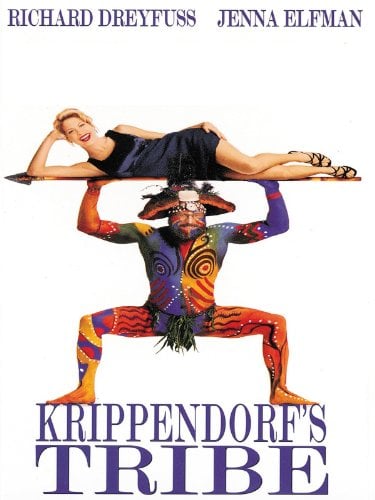 Krippendorf's Tribe Details:
Instead of documenting a previously unknown tribe in New Guinea, Professor James Krippendorf (Richard Dreyfuss) has blown the last two years … and all his grant money … rearing his out-of-control kids! Desperate to bluff his way past impatient colleagues, Krippendorf decides to focus his camera on the wildest tribe he can find: his own outragoues offspring!
Key Cast:
Richard Dreyfuss: Professor James Krippendorf
Jenna Elfman: Professor Veronica Micelli
Natasha Lyonne: Shelly Krippendorf
Lily Tomlin: Professor Ruth Allen
Barbara Williams: Professor Jennifer Harding Krippendorf
Gregory Smith: Michael "Mickey" Krippendorf
Carl Michael Lindner: Edmund Krippendorf
Stephen Root: Gerald Adams
Mila Kunis: Abbey Tournquist
David Ogden Stiers: Henry Spivey
Doris Belack: President Porter
Frances Bay: Edith Proxmire
Sandy Martin: Nurse
Key Crew:
Director: Todd Holland
Producers: Larry Brezner, Ross Canter and Whitney Green
Screenplay:; Charlie Peters
---
Related Articles:
---