Kundun (Touchstone Movie)
Here is everything you need to know about the amazing Touchstone movie Kundun including casting, reviews, fun facts and more. I hope you find this listing informative and helpful!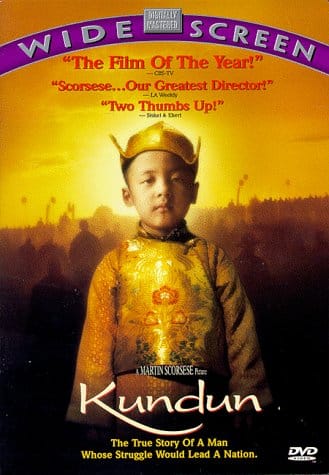 Kundun Details:
Praised as one of the best films of the year, KUNDUN is a motion picture masterpiece directed by five-time Academy Award(R)-nominated director Martin Scorsese. It's the incredible true story of one of the world's most fascinating leaders — Tibet's Dali Lama and his daring struggle to rule a nation at one of the most challenging times in its history. Powerfully told and set against a backdrop of world politics — the film's release created an international uproar! Featuring a striking Oscar(R)-nominated score by renowned composer Philip Glass, this extraordinary motion picture has been greeted with both controversy and worldwide acclaim — experience it for yourself!
Key Cast:
Tenzin Thuthob Tsarong: the Dalai Lama (Adult)
Gyurme Tethong: the Dalai Lama (Age 12)
Tulku Jamyang Kunga Tenzin: the Dalai Lama (Age 5)
Tenzin Yeshi Paichang: the Dalai Lama (Age 2)
Tencho Gyalpo: the Dalai Lama's mother
Tenzin Topjar: Lobsang (age 5 to 10)
Tsewang Migyur Khangsar: the Dalai Lama's father
Tenzin Lodoe: Takster Rinpoche
Tsering Lhamo: Tsering Dolma
Geshi Yeshi Gyatso: the Lama of Sera
Losang Gyatso: The Messenger
Sonam Phuntsok: Reting Rinpoche
Gyatso Lukhang: Lord Chamberlain
Lobsang Samten: Master of the Kitchen
Jigme Tsarong: Taktra Rinpoche
Tenzin Trinley: Ling Rinpoche
Robert Lin: chairman Mao Zedong
Jurme Wangda: Prime Minister Lukhangwa
Jill Hsia: Little Girl
Key Crew:
Director: Martin Scorses
Producer: Barbara De Fina
Writer: Melissa Mathison
---
Related Articles:
---