Mafia! (Touchstone Movie)
Here is everything you need to know about the amazing Touchstone movie Mafia! including casting, reviews, fun facts and more. I hope you find this listing informative and helpful!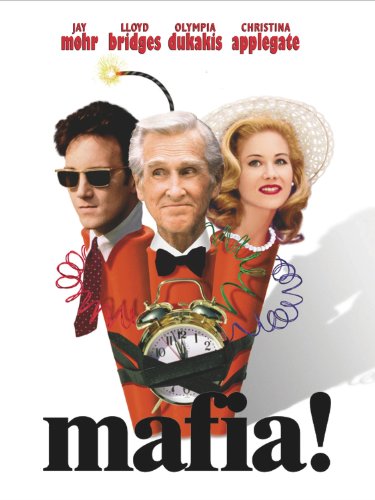 Mafia! Details:
Lloyd Bridges rules the underworld as the ruthless, powerful … Godfather Vincenzo Cortino. When the time comes to choose the next Don Cortino, a rivalry breaks out between his two sons: one a war hero and the other a raving psychotic!
Key Cast:
Jay Mohr: Anthony "Tony" Cortino
Lloyd Bridges: Vincenzo Armani Windbreaker Cortino
Louis Mandylor: young Vincenzo
Jason Fuchs: Vincenzo Cortino: a boy
Christina Applegate: Diane Steen
Billy Burke: Joey Cortino
Pamela Gidley: Pepper Gianini
Olympia Dukakis: Sophia Cortino
Joe Viterelli: Dominick Clamato
Tony Lo Bianco: Cesar Marzoni
Blake Hammond: Fatso Paulie Orsatti
Phil Suriano: Frankie Totino
Vincent Pastore: Gorgoni
Marisol Nichols: Carla
Carol Ann Susi: Mrs. Clamato
Gregory Sierra: Bonifacio
Key Crew:
Director: Jim Abrahams
Producers: Peter Abrams and Robert Levy
Writers: Jim Abrahams, Greg Norberg and Michael McManus
---
Related Articles:
---