Man Of The House (1995 Movie)
Here is everything you need to know about the amazing Disney movie Man Of The House including casting, reviews, fun facts and more. I hope you find this listing informative and helpful!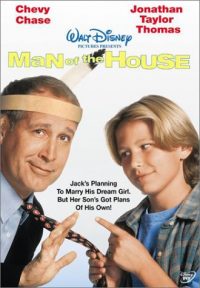 Man Of The House Description:
In Disney's Man of the House, Chevy Chase is Jack, a guy who's found the woman of his dreams. Too bad her stubborn 11-year-old son, Ben thinks Jack is a geek! As a test, Ben coaxes Jack into joining the YMCA Indian Guides. Chaos ensues as Jack struggles to prove to Ben that he's not totally uncool! From rain dancing to building a teepee, Jack will do anything to win Ben's approval – and his mom's affection!
Key Cast Members:
Chevy Chase: Jack Sturges (Squatting Dog)
Farrah Fawcett: Sandy Archer
Jonathan Taylor Thomas: Ben Archer (Little Wing)
Jimmy Baker: Young Ben Archer
George Wendt: Chet Bronski (Chief Running Horse)
Zachary Browne: Norman Bronski (Dark Eagle)
David Shiner: Lloyd Small (Silent Thunder)
Richard Portnow: Joey Renda