Marvel's Spider-Man (DisneyXD Show)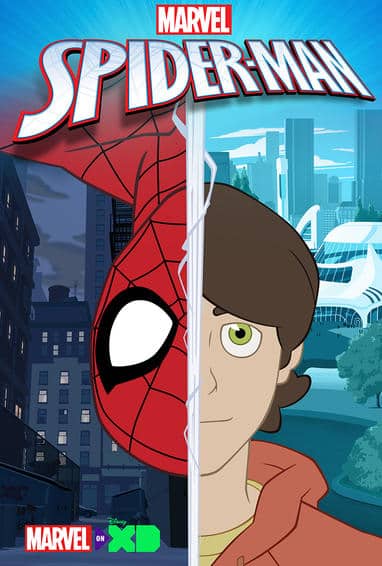 Marvel's Spider-Man Description:
Fifteen-year-old Peter Parker has always been the smart kid in school, but figuring out how to balance teenage troubles and his newfound superhero alter-ego doesn't come as easily. As Peter begins to embrace his powers, his best friend Harry heads down a troubled path, eventually leading the two inseparable friends to land on opposite sides of good and evil. (source)
Key Cast Members:
Robbie Daymond: Spider-Man
Max Mittleman: Harry Osborn
Nadji Jeter: Miles Morales
Melanie Minichino: Anya Corazon
Fred Tatasciore: Max Modell
Laura Bailey: Gwen Stacy
Nancy Linari: Aunt May
Patton Oswalt: Uncle Ben
Scott Menville: Doc Ock
John DiMaggio: The Jackal
Alastair Duncan: Vulture
Joe Quesada: coffee shop owner Joe.
Key Crew Members:
Executive Producers: Alan Fine, Dan Buckley, Joe Quesada and Jeph Loeb
Co-Executive Producers: Stan Lee, Eric Radomski, Cort Lane and Stephen Wacke
Supervising Producers: Kevin Shinick and Marsha Griffin
Consulting Producers: Dan Slott, Kevin Burke and Chris "Doc" Wyatt
Supervising Director: Philip Pignotti
---
Related News:
---
Related Articles:
---