Metro (Touchstone Movie)
Here is everything you need to know about the amazing Touchstone movie Metro including casting, reviews, fun facts and more. I hope you find this listing informative and helpful!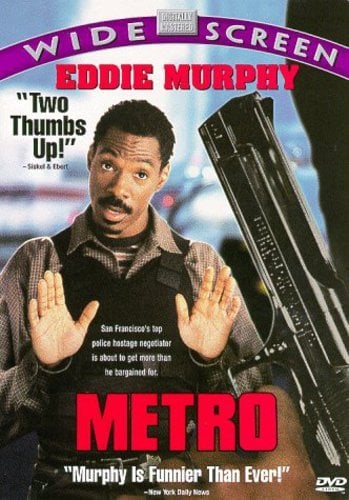 Metro Details:
Eddie Murphy plays Scott Roper, a fast-talking, wisecracking, on-the-edge hostage negotiator whose offbeat-but-winning style has made him San Francisco's top mediator! Roper will say … and do … absolutely anything to get his man. But when he comes face to face with a psychotic killer who's playing a lethal game of cat and mouse, he's finally met his match! Don't miss the excitement as the always amusing Murphy packs METRO with outrageous action that has audiences cheering!
Key Cast:
Eddie Murphy: Insp. Scott Roper
Michael Rapaport: Kevin McCall
Carmen Ejogo: Veronica "Ronnie" Tate
Michael Wincott: Michael Korda
Art Evans: Lt. Sam Baffett
Denis Arndt: Capt. Frank Solis
Paul Ben-Victor: Clarence Teal
Kim Miyori: Insp. Iona Kimura
Donal Logue: Earl
James Carpenter: Officer Forbes
Key Crew:
Director: Thomas Carter
Producer: Roger Birnbaum
Writer: Randy Feldman
---
Related Articles:
---