Mickey's Philharmagic (Disney World Show)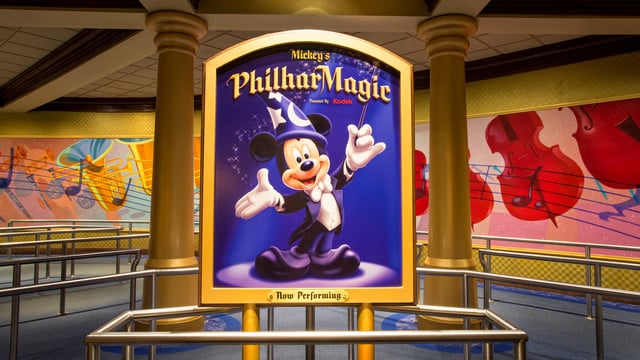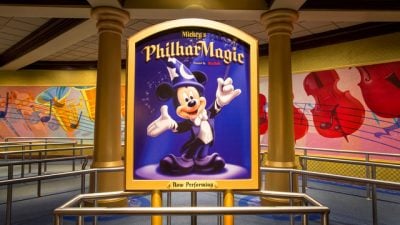 Mickey's Philharmagic Description:
A Whole New World Disney magic meets Disney music in Mickey's Philharmagic: a spectacular 12-minute 3D fantasy adventure starring Donald Duck.
Before the Curtain Rises
Stroll beneath a regal marquee and make your way into the Fantasyland Concert Lobby, passing framed posters of performances by classic Disney characters. Upon receiving a pair of "opera glasses," proceed into the 486-seat Concert Hall, home to a large golden proscenium, and take your seat for the show.
The 3D Concert Experience
As the lights dim, Donald Duck is fast asleep. Mickey Mouse appears with music in hand and wakes Donald before rushing offstage to ready the show. As Donald prepares the orchestra for Mickey, he comes across the conductor's baton and decides to work a little magic by donning Mickey's Sorcerer's Hat. But things get out of control fast and Donald is unexpectedly plunged into a 3D dream world of classic Disney animated musical sequences.
The Music
Join Donald Duck on a whirlwind tour of some of the most memorable songs in Disney animation history, including:
Be transported to a host of classic Disney settings—presented for the first time in stunning 3D—including:
Beast's Dining Hall
Ariel's Undersea Grotto
Simba's Africa
Peter Pan's Nighttime London
Aladdin's Agrabah
(source)
Mickey's Philharmagic Video:
Disney Character(s) in this Post:
Aladdin (Character)