Mighty Joe Young (1998 Movie)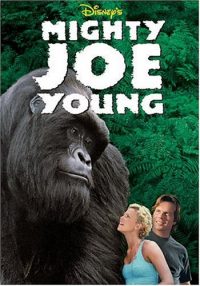 Mighty Joe Young Description:
In Mighty Joe Young, the legendary Joe, a playful, smart fifteen-foot-tall gorilla, and his lifelong best friend Jill Young have grown up together in the remote mountains of Central Africa. When Joe's peaceful existence is shattered by poachers, Jill and zoologist Gregg O'Hara rescue their innocent friend and move him to the safety of an animal conservancy in California. But Joe's safety is short-lived.
Key Cast Members:
Bill Paxton: Professor Gregory "Gregg" O'Hara
Charlize Theron: Jill Young
John Alexander: Mighty Joe Young
Verne Troyer: Baby Joe Young
Rade Šerbedžija: Andrei Strasser
Regina King: Cecily Banks
Peter Firth: Garth
Naveen Andrews: Pindi
David Paymer: Harry Ruben
Robert Wisdom: Kweli
Christian Clemenson: Jack
Scarlett Pomers: Charlotte
Geoffrey Blake: Vern
Lawrence Pressman: Doctor Elliot Baker
Linda Purl: Doctor Ruth Young
Mika Boorem: Young Jill Young
Cory Buck: Jason
Reno Wilson: Poacher
---
Related Articles:
---