Money for Nothing (Hollywood Pictures Movie)
Here is everything you need to know about the amazing Hollywood Pictures movie Money for Nothing including casting, reviews, fun facts and more. I hope you find this listing informative and helpful!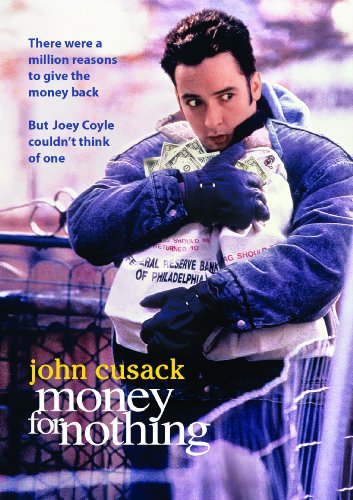 Money for Nothing Details:
Screen favorite John Cusack stars in the hilarious comedy for everyone who's ever dreamt of instant millions! After finding a bagful of unmarked $100 bills, unemployed dockworker Joey Coyle had a million reasons to give the money back, but he couldn't think of one! And when he decides to keep it, oh what a price he pays! The lucky discovery launches a buying spree and a series of uproarious events leading to Joey's outrageous attempt at sneaking out of the country past the media, the mob, and the cops. If you're looking for a comedy packed with priceless laughs, pick up MONEY FOR NOTHING!
Key Cast:
John Cusack: Joey Coyle
Debi Mazar: Monica Russo
Michael Rapaport: Kenny Kozlowski
Michael Madsen: Detective Laurenzi
Benicio Del Toro: Dino Pallidino
James Gandolfini: Billy Coyle
Fionnula Flanagan: Mrs. Coyle
Maury Chaykin: the money launderer
Key Crew:
Director: Ramon Menendez
Producer: Tom Musca
Screenplay: Ramon Menendez, Tom Musca and Carol Soieski