Monkeys Go Home! (1967 Movie)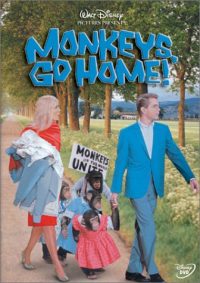 Monkeys Go Home! Description:
In Disney's Monkeys Go Home!, Henry Dussard, a young American, inherits a picturesque but badly neglected olive farm in southern France and is determined to make it operational again despite cautionary advice from the local priest and a pretty villager. Desperate for laborers, the inventive Dussard turns to the zaniest crew of olive pickers ever recruited – four mischievous monkeys!
Key Cast Members:
Maurice Chevalier: Father Sylvain
Dean Jones: Hank Dussard
Yvette Mimieux: Maria Riserau
Bernard Woringer: Marcel Cartucci
Clément Harari: Emile Paurilis
Yvonne Constant: Yolande Angelli
Marcel Hillaire: Mayor Gaston Lou
Jules Munshin: Monsieur Piastillio
Alan Carney: Grocer
Maurice Marsac: Fontanino
Darleen Carr: Sidoni Riserau
---
---
---
---