Moon Pilot (1962 Movie)
Here is everything you need to know about the amazing Disney movie Moon Pilot including casting, reviews, fun facts and more. I hope you find this listing informative and helpful!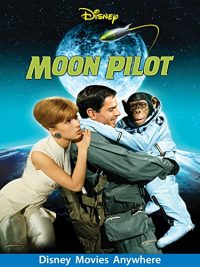 Moon Pilot Description:
In Disney's Moon Pilot, after Charley the chimp successfully orbits the moon, it's a space race against time as a reluctant volunteer becomes next in line. The fiercely organized plans of his mission director go hysterically awry when a beautiful "spy" appears. She has a vital – and quite unearthly – bit of information that could save the mission from failure.
Key Cast Members:
Tom Tryon: Captain Richard Talbot
Dany Saval: Lyrae
Brian Keith: Major General Vanneman
Edmond O'Brien: McClosky
Tommy Kirk: Walter Talbot
Bob Sweeney: Sen. Henry McGuire
Kent Smith: Secretary of the Air Force
Simon Scott: Medical Officer
Bert Remsen: Agent Brown
Sarah Selby: Mrs. Celia Talbot
Dick Whittinghill: Col. Briggs