Mr. Destiny (Touchstone Movie)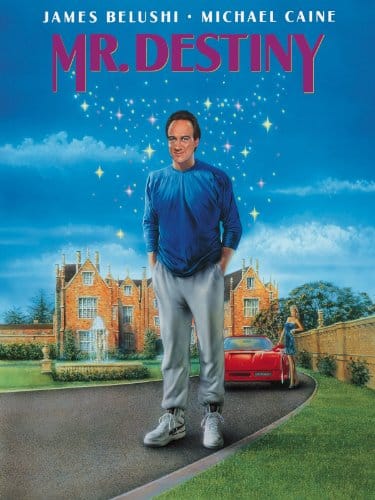 Mr. Destiny Details:
Imagine if one day, out of the blue, your wildest dreams came true! That's exactly what happens to junior executive Larry Burrows (James Belushi) when he bumps into a mysterious stranger (Michael Caine). Instantly, Larry's ho-hum life becomes his ultimate fantasy — huge mansion, beautiful wife, cars galore. But before long, his new lifestyle isn't so enchanting. Ultimately, Larry discovers it's going to take a lot more than wishful thinking to get back to where he once belonged! Co-starring Linda Hamilton and comedian Jon Lovitz, MR. DESTINY is a delightful rags-to-riches comedy brimming with totally magical entertainment!
Key Cast:
James Belushi: Larry Joseph Burrows
Linda Hamilton: Ellen Jane Burrows/Robertson
Michael Caine: Mike the Bartender/Mr. Destiny
Jon Lovitz: Clip Metzler
Hart Bochner: Niles Pender.
Bill McCutcheon: Leo Hansen
Rene Russo: Cindy Jo Bumpers/Burrows
Jay O. Sanders: Jackie Earle Bumpers, a.k.a. Cement Head
Maury Chaykin: Guzelman
Pat Corley: Harry Burrows
Douglas Seale: Boswell
Courteney Cox: Jewel Jagger
Doug Barron: Lewis Flick
Jeff Weiss: Ludwig
Jeff Pillars: Duncan
Kathy Ireland: Gina
Key Crew:
Director: James Orr
Producers and Writers: James Orr and Jim Cruickshank
---
Related Articles:
---