Mr. Wrong (Touchstone Movie)
Here is everything you need to know about the amazing Touchstone movie Mr. Wrong including casting, reviews, fun facts and more. I hope you find this listing informative and helpful!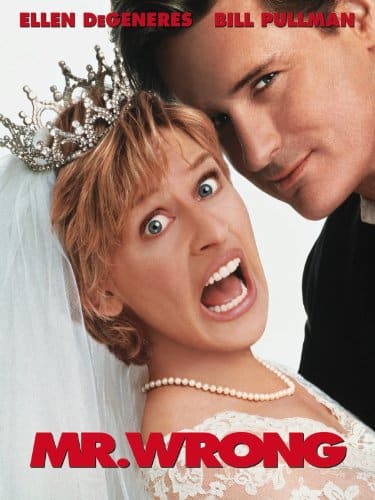 Mr. Wrong Details:
Here's the outrageous and hilarious comedy that matches one of America's hottest comics — Ellen DeGeneres — with handsome comedy favorite Bill Pullman. Together, they deliver a riotously funny look at the agonizing dating games of the '90s! He seems like Martha's perfect dream date … until he unexpectedly turns her hopeful search for Mr. Right into the nightmare of winding up with Mr. Wrong! With a first-rate cast and a hot hit soundtrack adding to the fun, critics and audiences nationwide couldn't stop laughing along with this sidesplitting comedy hit!
Key Cast:
Ellen DeGeneres: Martha Alston
Bill Pullman: Whitman Crawford
Joan Cusack: Inga Gunther
Dean Stockwell: Jack Tramonte
Joan Plowright: Mrs. Crawford
Hope Davis: Annie
Ellen Cleghorne: Jane
Robert Goulet: Braxton
John Livingston: Walter
Key Crew:
Director: Nick Castle
Producer: Marty Katz
Writers: Chris Matheson, Kerry Ehrin and Craig Munson
---
Related Articles:
---