Mumford (Touchstone Movie)
Here is everything you need to know about the amazing Touchstone movie Mumford including casting, reviews, fun facts and more. I hope you find this listing informative and helpful!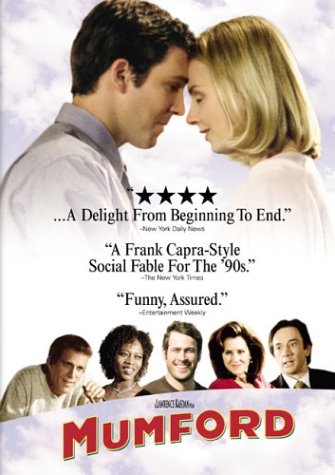 Mumford Details:
MUMFORD has a first rate ensemble cast including Ted Danson, Martin Short, Mary McDonnell, Jason Lee, and Alfre Woodard. When a would-be psychologist, curiously named Dr. Mumford (Loren Dean), comes to the idyllic town of the same name and offers his talent for listening and a disarming frankness, the town's quirkiest citizens scramble for a seat on his couch. As he lightens hearts darkened by old secrets — including those of the beautiful and troubled Sofie Crisp (Hope Davis) — no one realizes he's hiding a whopper of his own, or that he's fallen head over heels for one of his patients! Filled with personality disorders, surprises, offbeat alliances, and some hilarious fantasies.
Key Cast:
Loren Dean: Dr. Mumford
Hope Davis: Sofie Crisp
Jason Lee: Skip Skipperton
Alfre Woodard: Lily
Mary McDonnell: Althea Brockett
Pruitt Taylor Vince: Henry Follett
Zooey Deschanel: Nessa Watkins
Martin Short: Lionel Dillard
David Paymer: Dr. Ernest Delbanco
Jane Adams: Dr. Phyllis Sheeler
Kevin Tighe and Dana Ivey: Mr. and Mrs. Crisp
Ted Danson: Jeremy Brockett
Jason Ritter: Martin Brockett
Elisabeth Moss: Katie Brockett
Robert Stack: Himself
Simon Helberg: College Roommate
Key Crew:
Director: Lawrence Kasdan
Producers: Lawrence Kasdan and Charles Okun
---
Related Articles:
---