My Boyfriend's Back (Touchstone Movie)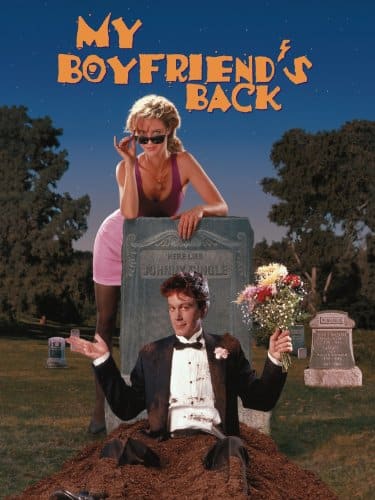 My Boyfriend's Back Details:
Teenager Johnny Dingle will do anything to keep his date with the hottest girl in school — even come back from the grave! You see, Johnny had the perfect scheme to win the heart of Missy McCloud, the town beauty. Unfortunately, Johnny's scam goes sour and he winds up dead! Even so, Johnny's determined to keep his date — unaware of the hilarity waiting for him upon his return! See for yourself why everyone's dying to see this outlandishly funny comedy!
Key Cast:
Andrew Lowery: Johnny Dingle
Traci Lind: Missy McCloud
Danny Zorn: Eddie
Edward Herrmann: Mr. Dingle
Mary Beth Hurt: Mrs. Dingle
Jay O. Sanders: Sheriff McCloud
Libby Villari: Camille McCloud
Matthew Fox: Buck Van Patten
Philip Hoffman: Chuck Bronski
Paul Dooley: Big Chuck
Austin Pendleton: Dr. Bronson
Cloris Leachman: Maggie the zombie expert
Paxton Whitehead: Judge in heaven
Matthew McConaughey: Guy #2
Key Crew:
Director: Bob Balaban
Producer: Sean Cunningham
Writer: Dean Lorey
---
Related Articles:
---