My Favorite Martian (1999 Movie)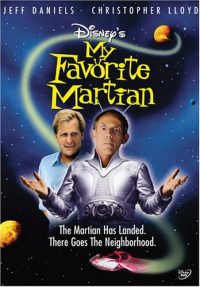 My Favorite Martian Description:
In Disney's My Favorite Martian, Tim O'Hara stumbles upon a Martian who has just crashed on Earth! Thinking this is the story of the Millennium, Tim schemes to expose the Martian – who has taken human form as "Uncle Martin." When Tim's efforts are constantly foiled by Uncle Martin's crazy antics, he decides to help the resourceful alien return home. With the government hot on their trail and a spaceship in pieces, can they blast Uncle Martin off in time?
Key Cast Members:
Christopher Lloyd: Uncle Martin / The Martian
Jeff Daniels: Tim O'Hara
Elizabeth Hurley: Brace Channing
Daryl Hannah: Lizzie
Wallace Shawn: Dr. Elliott Coleye
Wayne Knight: Zoot
Christine Ebersole: Mrs. Brown
Michael Lerner: Mr. Channing
Shelley Malil: Felix
Ray Walston: Armitan / Neenert
Michael Bailey Smith: The Big Guard
---
Related Articles:
---