My Little Pony Tales (Playhouse Disney Show)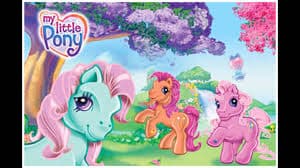 My Little Pony Tales Description:
Ponyland is full of excitement, if you know where to find it, and now all of your favorite My Little Pony Tales are finally collected in one amazing set! Join the 7 Pony Friends (Starlight, Sweetheart, Melody, Bright Eyes, Patch, Clover and Bon Bon) for 13 episodes of outrageous fun! Games, picnics, ice cream shops, roller derbies and even UFOs… nothing is off-limits when it comes to grand Pony adventures! (source)
This was a popular children's show on Playhouse Disney that ran in 1997.
Key Cast Members:
Brigitta Dau
Laura Harris
Willow Johnson
Lalainia Lindbjerg
Maggie Blue O'Hara
Kelly Sheridan
Venus Terzo
Chiara Zanni
---
Related Articles:
---