Mystery Alaska (Hollywood Pictures Movie)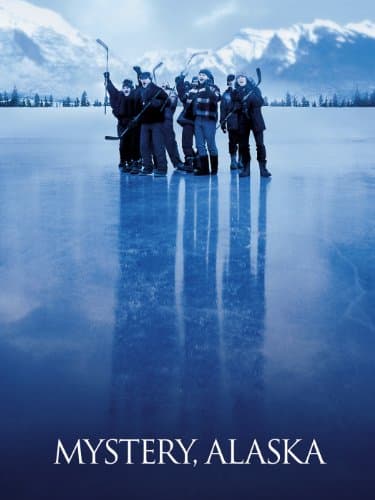 Mystery Alaska Details:
A remote hockey-obsessed town populated by 633 of the most eccentric characters you'd ever want to meet, Mystery is the kind of place where nothing ever changes. But then life as they know it gets turned completely upside down! When a publicity stunt brings the world-famous New York Rangers — and the national spotlight — to Mystery for a game with the local team of weekend warriors, the whole town rises to meet the challenge of a lifetime! Russell Crowe, Hank Azaria, and Burt Reynolds lead an incredible all-star cast.
Key Cast:
Russell Crowe: Sheriff John Biebe
Hank Azaria: Charles Danner
Mary McCormack: Donna Biebe
Burt Reynolds: Judge Walter Burns
Colm Meaney: Mayor Scott R. Pitcher
Lolita Davidovich: Mary Jane Pitcher
Maury Chaykin: Bailey Pruitt
Ron Eldard: Matt "Skank" Marden
Michael Buie – Connor Banks
Ryan Northcott: Stevie Weeks
Beth Littleford: Janice Pettiboe
Kevin Durand: "Tree" Lane
Scott Grimes: Brian "Birdie" Burns
Jason Gray-Stanford: Bobby Michan
Adam Beach: Galin Winetka
Leroy Peltier – Ben Winetka
Cameron Bancroft: "Tinker" Connolly
Michael McKean: Mr. Walsh
Rachel Wilson: Marla Burns
Megyn Price: Sarah Heinz
Judith Ivey: Mrs. Joanne Burns
Terry David Mulligan: Dr. Henry Savage
Mike Myers: Donnie Shulzhoffer
Jim Fox: himself
Phil Esposito: himself
Little Richard: himself
L. Scott Caldwell: Judge McGibbons
Steve Levy: himself
Barry Melrose: himself
Key Crew:
Director: Jay Roach
Producer: David Kelley
Writer: David Kelley and Sean O'Byrne
---
Related Articles:
---