Napoleon And Samantha (1972 Movie)
Here is everything you need to know about the amazing Disney movie Napoleon And Samantha including casting, reviews, fun facts and more. I hope you find this listing informative and helpful!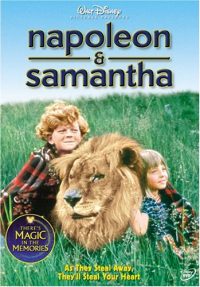 Napoleon And Samantha Description:
In Disney's Napoleon And Samantha, two young children (Johnny Whitaker and Jodie Foster) suddenly find themselves in charge of a gentle, aging circus lion. However, when they are threatened with being split up by stern authorities, the trio embarks on a perilous journey across the wilds of the American Northwest.
Key Cast Members:
Johnny Whitaker: Napoleon Wilson
Jodie Foster: Samantha
Michael Douglas: Daniel Arlington Williams III
Will Geer: Grandpa Seth Wilson
Zamba: Major the Lion
Arch Johnson: Chief of Police
Henry Jones: Mr. Amos Gutteridge
Vito Scotti: Dimitri the Clown
John Crawford: Desk Sergeant
Mary Wickes: Clerk
Ellen Corby: Gertrude
Rex Holman: Mark Pierson
Claude Johnson: Gary
John Lupton: Pete
James MacDonald: Bear