National Treasure (2004 Movie)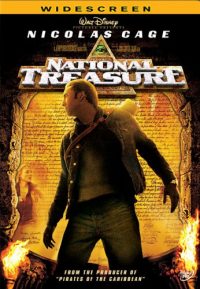 National Treasure Description:
Ever since he was a boy, Gates has been obsessed with finding the legendary Knights Templar Treasure, the greatest fortune known to man. As Gates tries to find and decipher ancient riddles that will lead him to it, he's dogged by a ruthless enemy who wants the riches for himself. Now in a race against time, Gates must steal one of America's most sacred and guarded documents – the Declaration of Independence – or let it, and a key clue to the mystery, fall into dangerous hands.
National Treasure Key Cast Members:
Nicolas Cage: Benjamin Franklin Gates
Sean Bean: Ian Howe
Harvey Keitel: Agent Peter Sadusky
Jon Voight: Patrick Henry Gates
Justin Bartha: Riley Poole
Diane Kruger: Dr. Abigail Chase
Christopher Plummer: John Adams Gates
Hunter Gomez: young Benjamin Gates
Jack Koenig: young Charles Carroll
---
---
Related News:
---
---