Night Crossing (1982 Movie)
Here is everything you need to know about the amazing Disney movie Night Crossing including casting, reviews, fun facts and more. I hope you find this listing informative and helpful!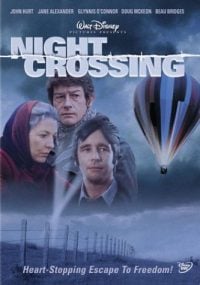 Night Crossing Description:
In the fall of 1979, one of history's most ingenious and courageous flights to freedom took place when two families fled from Communist East Germany to the West in their own handcrafted hot air balloon. NIGHT CROSSING is the remarkable true story of the Strelzyk and Wetzel families and their daring.
Key Cast Members:
John Hurt: Peter Strelzyk
Doug McKeon: Frank Strelzyk
Keith McKeon: Fitscher Strelzyk
Beau Bridges: Günter Wetzel
Jane Alexander: Doris Strelzyk
Glynnis O'Connor: Petra Wetzel
Klaus Löwitsch: Schmolk
Geoffrey Liesik: Peter Wetzel
Michael Liesik: Andreas Wetzel
Ian Bannen: Josef Keller
Anne Stallybrass: Magda Keller
Matthew Taylor: Lukas Keller
Günter Meisner: Major Koerner
Sky Dumont: Ziegler
Jan Niklas: Lieutenant Fehler