No Deposit No Return (1976 Movie)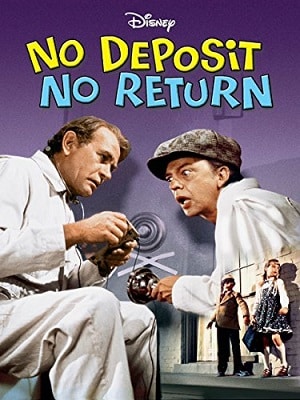 No Deposit No Return Description:
In Disney's No Deposit No Return, David Niven stars as a millionaire with two bored grandchildren who fake their own kidnapping, holding themselves for ransom! In cahoots with the kids is a pair of down-on-their-luck safecrackers. It doesn't take long for the two young pranksters to discover just how impractical a practical joke can be.
Key Cast Members:
David Niven: J.W. Osborne
Darren McGavin: Duke
Don Knotts: Bert Delaney
Herschel Bernardi: Sgt. Max Turner
Charles Martin Smith: Longnecker
Barbara Feldon: Carolyn Osborne
Kim Richards: Tracy Osborne
Brad Savage: Jay Osborne
John Williams: Jameson
Vic Tayback: Big Joe
Robert Hastings: Peter
Louis Guss: Freddie
Richard O'Brien: Capt. Boland
Barney Phillips: Sgt. Benson
Ruth Manning: Miss Murdock
Olive Dunbar: Mrs. Hadley
James Hong: Ming Lo
Jean Gillespie: Reporter
Jack Wells: Reporter
Stu Gilliam: Policeman
Jack Griffin: Policeman
Milt Kogan: Policeman
Hank Jones: Banana Cop
Iris Adrian: Housewife
Henry Slate: Truck Driver
---
---
---
---