Nothing to Lose (Touchstone Movie)
Here is everything you need to know about the amazing Touchstone movie Nothing to Lose including casting, reviews, fun facts and more. I hope you find this listing informative and helpful!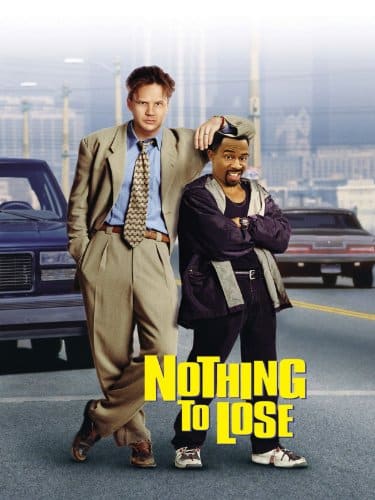 Nothing to Lose Details:
Advertising executive Nick Beam (Tim Robbins) has completely bottomed out. His career is a mess, his marriage is on the rocks … and a fast-talking would-be carjacker (Martin Lawrence) has just jumped into his car! So what does he do? Nick throws common sense out the window and turns the tables on his captor! Soon this mismatched pair speeds off on a comical crime spree that includes holdups, high-speed chases, and revenge! NOTHING TO LOSE is a wild comedy success.
Key Cast:
Tim Robbins: Nick Beam
Martin Lawrence: Terrance Paul "T. Paul" Davidson
John C. McGinley: Davis "Rig" Lanlow
Giancarlo Esposito: Charles "Charlie" Dunt
Michael McKean: Phillip "P.B" Barrow
Kelly Preston: Ann Beam
Susan Barnes: Delores
Rebecca Gayheart: Danielle
Samaria Graham: Lisa Davidson
Marcus T. Paulk: Joey Davidson
Penny Bae Bridges: Tonya Davidson
Irma P. Hall: Bertha "Mama" Davidson
Caroline Keenan: Ann's sister
Patrick Cranshaw: Henry
Steve Oedekerk: Security Guard Baxter
Dan Martin: L.A.P.D. Sergeant
Jim Meskimen: Business Suit Man
Key Crew:
Director: Steve Oedekerk
Producers: Martin Bregman, Dan jinks and Michael Mregman
Writer Steve Odekerk
---
Related Articles:
---