Oliver & Company (1988 Movie)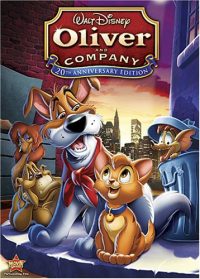 Oliver & Company Synopsis:
Oliver, a feisty young cat, explores New York in this thrilling animated classic cleverly based on Charles Dickens' timeless story, OLIVER TWIST — featuring unforgettable songs performed by musical greats Billy Joel, Huey Lewis and Bette Midler! Joined by a pack of hilarious characters — dogs Dodger, Tito and their pals — Oliver knows he's found a lifelong friend and a real home.
Related Music:
Fun Facts and Statistics:
The movie took 2.5 years to produce.

Music superstar Billy Joel played the role of Dodger.

This was the first Disney movie to allow real world product placements in the movie.
Movie Trailer:
---
Disney Character(s) in this Post:
DeSoto (Oliver & Company)