Paradise (Touchstone Movie)
Here is everything you need to know about the amazing Touchstone movie Paradise including casting, reviews, fun facts and more. I hope you find this listing informative and helpful!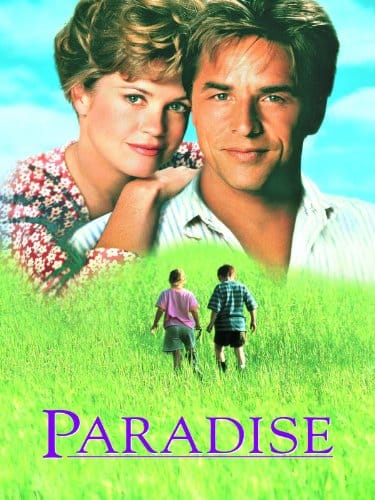 Paradise Details:
In their first feature film together, Melanie Griffith and Don Johnson combine their impressive talents in the critically acclaimed must-see hit PARADISE! This extraordinary film is the touching story of the lost love between a young married couple and how a visiting youngster (Elijah Wood) rekindles that love one memorable summer. Funny, poignant, and uplifting, PARADISE is full of natural beauty and heartfelt emotion, you'll remember it for a long, long time!
Key Cast:
Melanie Griffith: Lily Reed
Don Johnson: Ben Reed
Elijah Wood: Willard Young
Thora Birch: Billie Pike
Sheila McCarthy: Sally Pike
Eve Gordon: Rosemary Young
Louise Latham: Catherine Reston Lee
Greg Travis: Earl McCoy
Sarah Trigger: Darlene
Richard K. Olsen: Minister
Rick Andosca: Ernest Parkett
Anthony Romano: Popular Boy (Clay)
Timothy Erskine: Darlene's Boyfriend
Chestley Price: Bus Driver
Dave Hager: Bartender
John R. Copeman: Other Fisherman
Jeff Jeffcoat: Eddie (The Attendant)
Scott Hubacek: Greyhound Bus Driver
Melanie van Betten: Marliss
Jason Robert Somrak: Neighborhood Tough
William Thomas Crumby: Lou
Carl McIntyre: Willard's Father
Key Crew:
Director: Mary Agnes Donoghue
Producers: Scott Kroopf and Patrick Palmer
Screenplay: Mary Agnes Donoghue
---
Related Articles:
---