Pearl Harbor (Touchstone Pictures)
Here is everything you need to know about the amazing Touchstone movie Pearl Harbor including casting, reviews, fun facts and more. I hope you find this listing informative and helpful!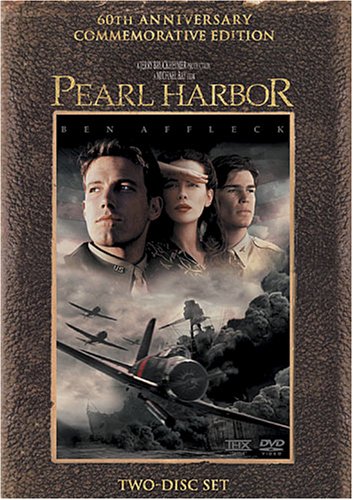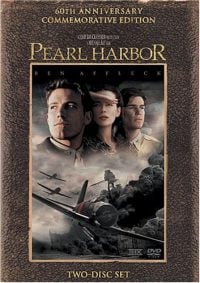 Pearl Harbor Details:
History comes alive in the unforgettable epic picture PEARL HARBOR, the spectacular blockbuster brought to the screen by Jerry Bruckheimer and Michael Bay. Astounding visual and audio effects put you at the center of the event that changed the world — that early Sunday morning in paradise when warplanes screamed across the peaceful skies of Pearl Harbor and jolted America into World War II. This real-life tale of catastrophic defeat, heroic victory, and personal courage focuses on the war's devastating impact on two daring young pilots, Ben Affleck and Josh Hartnett, and a beautiful, dedicated nurse, Kate Beckinsale. PEARL HARBOR is extraordinary moviemaking — a breathtaking reenactment of the "date which will live in infamy" and a heartfelt tribute to the men and women who lived it.
Key Cast:
Ben Affleck: the First Lieutenant (later Captain) Rafe McCawley
Jesse James: young Rafe McCawley
Josh Hartnett: First Lieutenant (later Captain) Daniel "Danny" Walker
Reiley McClendon: young Danny Walker
Kate Beckinsale: Lieutenant Evelyn Johnson
Tom Sizemore: Sergeant Earl Sistern
Jaime King: Betty Bayer
Catherine Kellner: Barbara
Jennifer Garner: Sandra
William Lee Scott: First Lieutenant Billy Thompson
Ewen Bremner: First Lieutenant Red Winkle
Greg Zola: First Lieutenant Anthony Fusco
Michael Shannon: First Lieutenant Gooz Wood
Matt Davis: Second Lieutenant Joe McKinnon
Dan Aykroyd: Captain Harold Thurman
Kim Coates: Lieutenant Jack Richards
Sara Rue: Martha
Tony Curran: Ian
William Fichtner: Mr. Walker
Steve Rankin: Mr. McCawley
John Fujioka: General Nishikura
Leland Orser: Major Jackson
Ted McGinley: Major Newman
Andrew Bryniarski: Joe
Brandon Lozano: Baby Danny McCawley
Cuba Gooding Jr.: Petty Officer Second Class Doris "Dorie" Miller
Jon Voight: President Franklin D. Roosevelt
Colm Feore: Admiral Husband E. Kimmel
Mako: Kaigun Taishō (Admiral) Isoroku Yamamoto
Alec Baldwin: Major (later Lieutenant Colonel) Jimmy Doolittle
Cary-Hiroyuki Tagawa: Kaigun Chūsa (Commander) Minoru Genda
Scott Wilson: General George Marshall
Graham Beckel: Admiral Chester W. Nimitz
Tom Everett: Frank Knox
Tomas Arana: Rear-Admiral Frank J. 'Jack' Fletcher
Peter Firth: Captain Mervyn S. Bennion
Glenn Morshower: Vice Admiral William F. 'Bull' Halsey Jr.
Yuji Okumoto: Kaigun-Daii (Lieutenant) Zenji Abe
Madison Mason: Admiral Raymond A. Spruance
Michael Shamus Wiles: Captain Marc Andrew "Pete" Mitscher
Key Crew:
Director: Michael Bay
Producers: Michael Bay and Jerry Bruckheimer
Writer: Randall Wallace
Music: Hans Zimmer
---
Related Articles:
---