Peter Pan's Flight (Disney World Ride)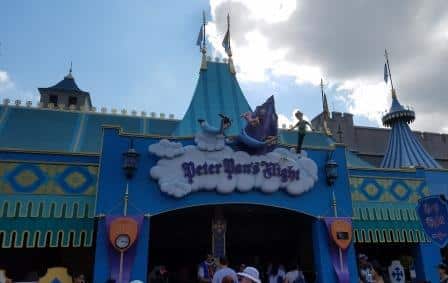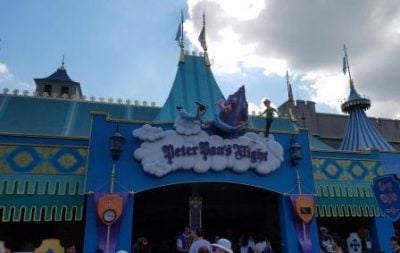 Peter Pan's Flight Ride Details:
Sail high into the moonlit sky with Peter Pan on Peter Pan's Flight in Walt Disney World Magic Kingdom's Fantasyland. Board a colorful galleon and, with the help of some pixie dust, embark on a high-flying adventure, passing many of the unforgettable settings and scenes made famous in Disney's animated film, Peter Pan.
Return to Never Land
Journey to the Darling children's nursery and behold the first meeting of Wendy, Michael, John… and Peter Pan. Sail through the nighttime sky over London, where famous sites like Big Ben and Tower Bridge mingle with a confection of glittering lights.  Then, descend into Never Land, home to volcanic peaks and sparkling waterfalls.
Once there, glimpse the Lost Boys and Mermaid Lagoon and sail past Skull Rock. Swoop into Pirate's Cove, home to an enormous pirate ship, and behold Peter Pan in a swashbuckling duel with Captain Hook. Finally, make your way back to London, leaving a defeated Captain Hook far behind.
Related Music:
Peter Pan's Flight Video:
Disney Character(s) in this Post:
Captain Hook (Peter Pan)