PJ Masks Headquarters Playset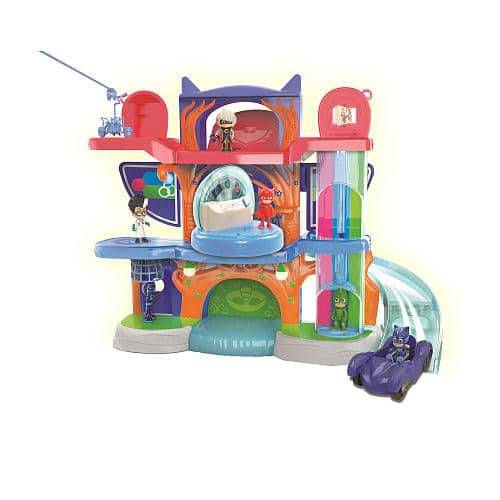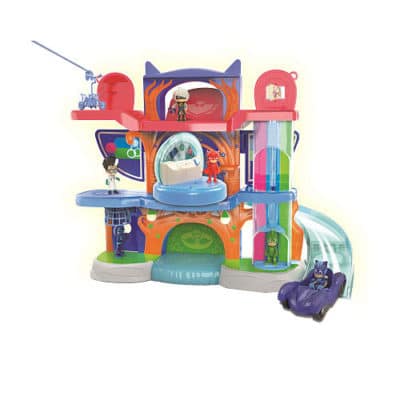 PJ Masks Headquarters Playset Description:
Because bedtime is the right time to fight crime, the PJ Masks go into the night to save the day! Inspired by the Disney Junior superhero animated TV series, this PJ Masks Headquarters Playset by Just Play lets you join your favorite pajama-clad protectors for thrilling adventures!
Start your mission with the PJ Picture Player that activates fun phrases and the show's theme song. Then, jump into the action with the included Catboy and his Cat Car, and send the two down the winding ramp. Use the working elevator to transport your heroes (additional figures sold separately) to any of the headquarters' three levels, and use the zip-line, hanging rings and pop-out hatches to set out for your quest. Get ready for superhero-sized fun with the PJ Masks!
PJ Masks Headquarters Playset Features:
Send Catboy in his Cat Car down the winding ramp into the night to save the day
Engage in superhero fun and recreate your favorite PJ Masks missions on the double-sided playset, which stands over 2′ tall and has three exciting character-themed levels
Inspired by the hit preschool superhero animated Disney Junior show
Activate lights and sounds on the PJ Picture Player to start your mission, where you can hear fun phrases and sing along to the action-packed theme song
Take flight on the zip-line, swing on the hanging cat rings and nab unwanted intruders with the trap door
Quickly move to any of the levels of the headquarters in the working elevator
Head out to battle villains through any of the three hero-themed hatches
Requires three AAA batteries (not included)
Recommended for ages 3 years and up
What's Included
PJ Masks Headquarters Playset
3″ Catboy figure
Cat Car
Disney Character(s) in this Post:
Amaya (PJ Masks)