Playing God (Touchstone Movie)
Here is everything you need to know about the amazing Touchstone movie Playing God including casting, reviews, fun facts and more. I hope you find this listing informative and helpful!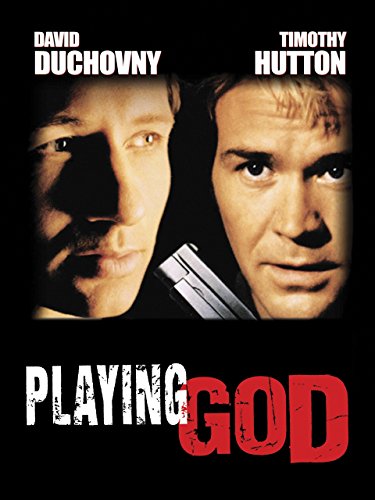 Playing God Details:
It's high-voltage thrills as David Duchovny and Timothy Hutton square off in an edgy confrontation where the stakes are high … and the action is deadly! Duchovny plays Dr. Eugene Sands, an ex-surgeon lured into a dark underworld by a hip — but lethal — mob boss (Hutton) in need of some unorthodox medical assistance. Before long, Sands is "playing God" — caught in a web of murder and mayhem, and growing far too close to the mobster's seductive mistress, played by sexy Angelina Jolie. It's a potent action thriller where passion and deception meet in a battle between good and evil!
Key Cast:
David Duchovny: Dr. Eugene Sands
Timothy Hutton: Raymond Blossom
Angelina Jolie: Claire
Michael Massee: Gage
Peter Stormare: Vladimir
Andrew Tiernan: Cyril
Gary Dourdan: Yates
John Hawkes: Flick
Will Stewart: Perry
Philip Moon: Casey
Pavel D. Lynchnikoff: Andrei
Tracey Walter: Jim
Sandra Kinder: Sue
Bill Rosier: Jerry
Keone Young: Mr Ksi
Stella Garcia: South African Businesswoman
Key Crew:
Director: Andy Wilson
Producers: Marc Abraham, Laura Bickford and Thomas Bliss
Writer: Mark Haskell Smith
---
Related Articles:
---