Primeval Whirl (Extinct Disney World Ride)
Here is everything you need to know about Walt Disney World's Animal Kingdom park's extinct Primeval Whirl ride including ride history, fun facts, photos and more. I hope you find this listing informative and helpful!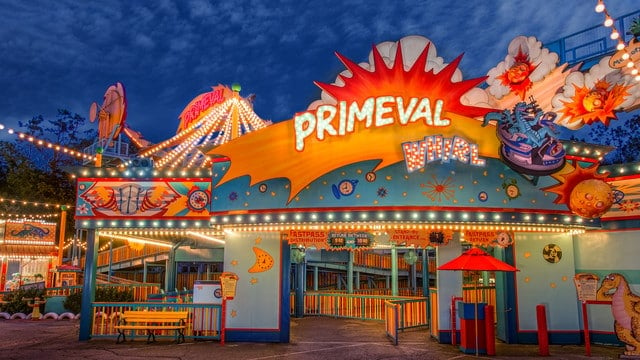 Primeval Whirl Ride Description:
Spin and slide on Primeval Whirl- a time-machine coaster back to the dinosaur age through a madcap maze of curves and drops.
Take a trip aboard a spinning roller coaster in this dinosaur-themed carnival-style attraction.
Hop inside a time-machine-styled contraption—created by research-scientist cousins Esther, Fester, Nester and Lester—and journey back to when dinosaurs ruled the earth. Climb a ramp and pass through a zany 4-ringed time portal before beginning a steady, swinging descent into the past.
A Trip to the Prehistoric Age
Sweep through a series of sudden dips and turns as your time machine spins on its own path. Whiz by cartoon-styled dinosaurs hastily preparing for their impending extinction and glimpse a shower of kooky meteors. Thrill to twists and turns and glide through a fossilized jigsaw puzzle of dinosaur bones before leaving the past behind and making your way back to the present.
Primeval Whirl Fun Facts and Statistics:
The top speed of this ride is roughly 29 mph
Disney Park(s) in this Post:
Disney's Animal Kingdom
---

Related News:

---

Related Articles:

---