Quiz Show (Hollywood Pictures Movie)
Here is everything you need to know about the amazing Hollywood Pictures movie Quiz Show including casting, reviews, fun facts and more. I hope you find this listing informative and helpful!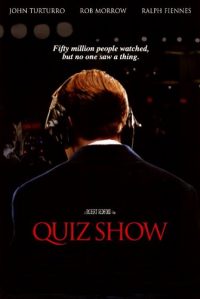 Quiz Show Details:
An exciting look behind the scenes at the thrills and high-stakes competition of TV's hottest big-money game show! But fame and fortune become a hotbed of scandal when a Washington investigator (Rob Morrow) uncovers corruption beneath the quiz show's glittering facade. The scandal implicates both the wildly popular champion (Ralph Fiennes) and the disgruntled ex-champ (John Turturro).
Key Cast:
Ralph Fiennes: Charles Van Doren
John Turturro: Herb Stempel
Rob Morrow: Richard N. "Dick" Goodwin
David Paymer: Dan Enright
Paul Scofield: Mark Van Doren
Hank Azaria: Albert Freedman
Christopher McDonald: Jack Barry
Adam Kilgour: Thomas Merton
Johann Carlo: Toby Stempel
Elizabeth Wilson: Dorothy Van Doren
Allan Rich: Robert Kintner
Mira Sorvino: Sandra Goodwin
George Martin: Chairman Oren Harris
Paul Guilfoyle: Lishman
Griffin Dunne: Geritol Account Executive
Michael Mantell: Pennebaker
Martin Scorsese: Martin Rittenhome
Neil Ross: Twenty-One Announcer
Barry Levinson: Dave Garroway
Shawn Batten: Cornwall cousin
Jeffrey Nordling: John Van Doren
Carole Shelley: Cornwall aunt
Le Clonche du Rand: Cornwall aunt
Calista Flockhart: Barnard Girl
Key Crew:
Director: Robert Redford
Producers: Robert Redford, Michael Jacobs, Julian Krainin and Michael Nozik
Screenplay: Paul Attanasio