Ralph Brennan's Jazz Kitchen (Disneyland)
Here is everything you need to know about the amazing Ralph Brennan's Jazz Kitchen restaurant at Disneyland including history, reviews, fun facts, photos and more. I hope you find this listing informative and helpful!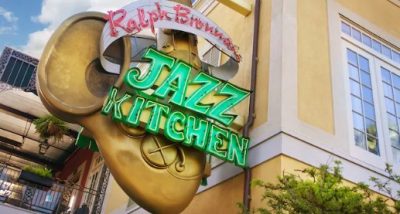 Ralph Brennan's Jazz Kitchen Description:
At Ralph Brennan's Jazz Kitchen, feast on Creole and Cajun specialties in a swingin' 2-story jazz palace with a beautiful open-air atrium.
Pass under the striped awning and into a romantic replica of traditional French Quarter architecture for authentic New Orleans cuisine and nightly live jazz. Inside a sprawling 15,000-square-foot space with a wrought-iron balcony overlooking the revelry of the Downtown Disney District, taste the melting pot of flavors that makes New Orleans cooking so unique.
Dine in the garden courtyard near a babbling fountain or sup in a stately dining room where topsy-turvy Mardi Gras umbrellas adorn the ceiling and colorful beads and murals add splashes of whimsy.
A Parade of Crescent City Specialties
French Quarter fare like Gumbo Ya-Ya, Pasta Jambalaya and Southern fried chicken sing of the bayou, while festive salads and authentic po' boy sandwiches make for inspired lunch choices. Afterwards, transform any meal Mardi Gras with tempting desserts like beignets or the attention-getting bananas Foster, flambéed tableside for 2!
In addition, a Carnival of New Orleans specialty drinks is served to revelers 21 and over—from the Hurricane to a refreshing Louisiana Lemonade—as well as draft and bottled beers, many from New Orleans breweries. Ralph Brennan's also features an assortment of wines by the glass.
Real New Orleans Roots
Ralph Brennan's family entered the hospitality business in 1943 with the purchase of the historic Old Absinthe House on Bourbon Street in New Orleans' French Quarter, once the headquarters of the notorious pirate Jean Lafitte. During its 200-year-plus history, personalities ranging from Mark Twain to Frank Sinatra have passed through its doors.
To bring an authentic look and feel to the location at the Downtown Disney District, a dozen New Orleans-based artists were commissioned to create original works for art expressly for Ralph Brennan's Jazz Kitchen.
Please note: All menu items are subject to change without notice.