Reign of Fire (Touchstone Movie)
Here is everything you need to know about the amazing Touchstone movie Reign of Fire including casting, reviews, fun facts and more. I hope you find this listing informative and helpful!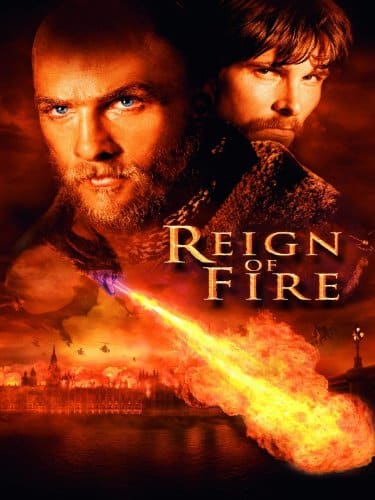 Reign of Fire Details:
Matthew McConaughey and Christian Bale star in an explosive action-packed adventure with bone-charring special effects that will have you glued to your seat! When workers in a London tunneling project awaken an unearthly fire-breathing beast from centuries of slumber, all hell breaks loose. Twelve-year-old Quinn (Bale) sees his mother, one of the workers, die trying to escape this new terror. Twenty years later as a "fire chief," he tries to keep a group of refugees alive with fierce dragons dominating the air, burning the land and feeding on the ash. Unexpectedly, Van Zan (McConaughey), a hotshot American militia leader, shows up with a ragtag group of slayers on a perilous crusade to hunt down and destroy the beasts. Tempers flare when there is a struggle for leadership — until both men realize only one species is getting out of this alive.
Key Cast:
Christian Bale: Quinn Abercromby
Matthew McConaughey: Denton Van Zan
Izabella Scorupco: Alex Jensen
Gerard Butler: Creedy
Scott Moutter: Jared Wilke
David Kennedy: Eddie Stax
Alexander Siddig: Ajay
Ned Dennehy: Barlow
Rory Keenan: Devon
Terence Maynard: Gideon
Doug Cockle: Goosh
Randall Carlton: Burke
Chris Kelly: Mead
Ben Thornton: Young Quinn
Alice Krige: Karen Abercromby
Key Crew:
Director: Rob Bowman
Producers: Richard Zanuck, Lili Fini Zanuck, Roger Birnbaum, Gary Barber and Dean Zanuck
Screenplay: Matt Greenberg, Gregg Chabot and Kevin Peterka
---
Related Articles:
---