Ride A Wild Pony (1975 Movie)
Here is everything you need to know about the amazing Disney movie Ride A Wild Pony including casting, reviews, fun facts and more. I hope you find this listing informative and helpful!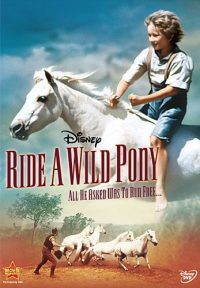 Ride A Wild Pony Description:
In Disney's Ride A Wild Pony, a wealthy ranch owner's gift of a wild pony means young Scotty can finally ride the seven miles to and from school, and he and the horse become fast friends. But the pony gets away and is sheltered as unclaimed by a young girl who cannot walk.
Key Cast Members:
Robert Bettles: Scott Pirie
Eva Griffith: Josie Ellison
Michael Craig: James Ellison
John Meillon: Charles Quayle
Alfred Bell: Angus Pirie
Roy Haddrick: J.C. Strapp
Peter Gwynne: Sgt. Collins
Melissa Jaffer: Mrs. Pirie
Lorraine Bayly: Mrs. Ellison
Wendy Playfair: Mrs. Quayle
Kate Clarkson: Jeannie Quayle
Jessica Noad: Miss Elsie
Neva Carr Glyn: Miss Gwen
Gerry Duggan: Train Engineer