Runaway Bride (Touchstone Movie)
Here is everything you need to know about the amazing Touchstone movie Runaway Bride including casting, reviews, fun facts and more. I hope you find this listing informative and helpful!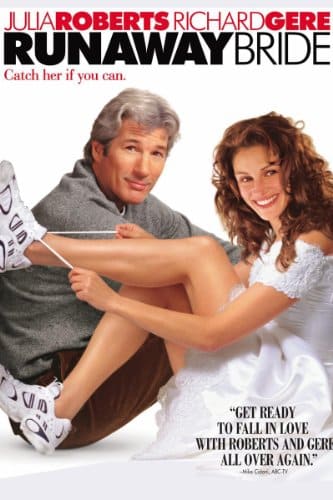 Runaway Bride Details:
CATCH HER IF YOU CAN."Roberts and Gere confirm their status as an eternal screen team"* in this delightful laugh-filled romantic comedy. Roberts plays small-town girl Maggie Carpenter, whose marches down the aisle become a series of near Mrs. when she bolts before saying "I do." Gere is Ike Graham, a cynical, big-city newspaper columnist eager to write a tell-all story about Maggie. But the more Ike finds out about the skittish Maggie, the more he finds he's falling in love.
Key Cast:
Julia Roberts as Margaret "Maggie" Carpenter
Richard Gere as Homer "Ike" Eisenhower Graham
Joan Cusack as Peggy Flemming
Héctor Elizondo as Fisher
Rita Wilson as Ellie Graham
Paul Dooley as Walter Carpenter
Christopher Meloni as Bob Kelly
Lisa Roberts Gillan as Elaine
Donal Logue as Priest Brian Norris
Reg Rogers as George "Bug Guy" Swilling
Yul Vazquez as Dead Head Gill Chavez
Kathleen Marshall as Cousin Cindy
Jean Schertler as Grandma
Key Crew:
Director: Garry Marshall
Producers: Ted Field, Tom Rosenberg, Scott Kroopf, Nikhilesh Mehra and Robert Cort
Writers: Josann McGibbon and Sara Parriott
---
Related Articles:
---