Scandalous John (1971 Movie)
Here is everything you need to know about the amazing Disney movie Scandalous John including casting, reviews, fun facts and more. I hope you find this listing informative and helpful!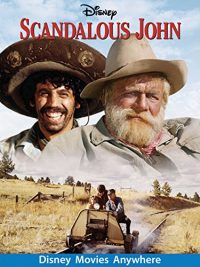 Scandalous John Description
In Disney's Scandalous John, when John can no longer pay the mortgage, a greedy real estate developer steps in to seize the land. Believing that he'll make money off his cattle, he hits the trail and sets out across the desert with his ranch hand Paco to take his one last steer to market. Soon, his cantankerous behavior leads to a series of whooping and hollering shootouts.
Key Cast Members:
Brian Keith: John McCanless
Alfonso Arau: Paco
Michele Carey: Amanda McCanless
Rick Lenz: Jimmy Whittaker
Harry Morgan: Sheriff Pippen
Iris Adrian: Mavis
Simon Oakland: Barton Whittaker
Bill Williams: Sheriff Hart
Christopher Dark: Card Dealer
Fran Ryan: Farm Woman
Bruce Glover: Sludge
Richard Hale: Old Indian
Jimmy Lydon: Grotch
John Ritter: Wendell
Larry D. Mann: Bartender
Jack Raine: Switchman
Booth Colman: Governor Murray
Edward Faulkner: Hillary
Bill Zuckert: Abernathy
John Zaremba: Wales
Robert Padilla: Paco's Cousin
Alex Tinne: Clerk
Benny Baker: Dr. Kropak
Paul Koslo: Pipes
William O'Connell: Men's Store Clerk
Sam Edwards: Bald Man
Leone Stevens: Girl
José Nieto: Mariachi Band
Joseph Gutierrez: Mariachi Band
Freddie Hernandez: Mariachi Band
Sondra Currie: Saloon Girl