Simon Birch (Hollywood Pictures Movie)
Here is everything you need to know about the amazing Hollywood Pictures movie Simon Birch including casting, reviews, fun facts and more. I hope you find this listing informative and helpful!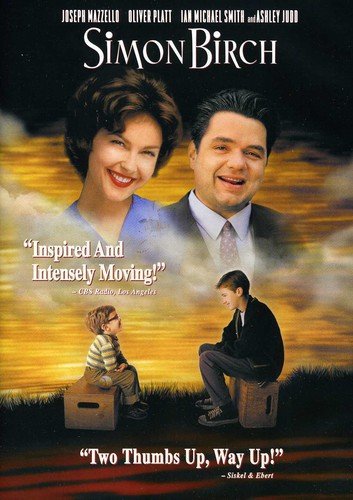 Simon Birch Details:
Even though Simon Birch is the smallest kid in town, deep down he knows that he was born to do something big! He's on a constant search to discover his destiny, but somehow manages to find nothing but trouble! Meanwhile, Simon's loyal best friend, Joe (Joseph Mazzello), is searching for the identity of his father, a secret his beautiful mother (Ashley Judd) has guarded Joe's entire life.
Key Cast:
Ian Michael Smith: Simon Birch
Joseph Mazzello: Joe Wenteworth
Jim Carrey: Adult Joe Wenteworth / Narrator
Ashley Judd: Rebecca Wenteworth
Oliver Platt: Ben Goodrich
David Strathairn: Reverend Russell
Dana Ivey: Grandmother Wenteworth
Beatrice Winde: Hilde Grove
Jan Hooks: Miss Agnes Leavey
Cecilley Carroll: Marjorie
Sumela-Rose Keramidopulos: Ann
Sam Morton: Stuart
John Mazzello: Simon Wenteworth
Holly Dennison: Mrs. Birch
Peter MacNeill: Mr. Birch
Key Crew:
Director: Mark Steven Johnson
Producers: Roger Birnbaum and Laurence Mark
Screenplay: Mark Steven Johnson
---
Related Articles:
---