Snake Eyes (Touchstone Movie)
Here is everything you need to know about the amazing Touchstone movie Snake Eyes including casting, reviews, fun facts and more. I hope you find this listing informative and helpful!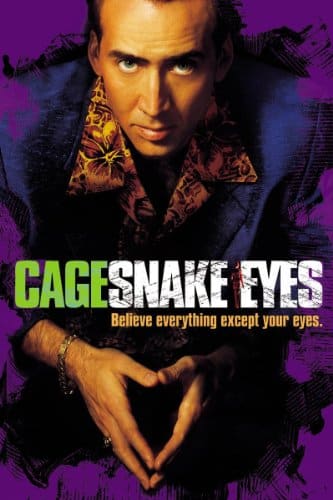 Snake Eyes Details:
Set in Atlantic City, an assassination attempt thrusts a detective (Nicolas Cage) into a murder case with 14,000 potential suspects and a deadly conspiracy where nothing is what it appears to be.
Key Cast:
Nicolas Cage: Detective Richard "Rick" Santoro
Gary Sinise: Commander Kevin Dunne
Carla Gugino: Julia Costello
Joel Fabiani: Charles Kirkland
John Heard: Gilbert Powell
Stan Shaw: Lincoln Tyler
Kevin Dunn: Lou Logan
Michael Rispoli: Jimmy George
Luis Guzmán: Cyrus
David Anthony Higgins: Ned Campbell
Mike Starr: Walt McGahn
Peter McRobbie: Gordon Pritzker
Tamara Tunie: Anthea
Chip Zien: Mickey Alter
Jayne Heitmeyer: Serena
Chip Chuipka: Zietz/Drunk
Adam C. Flores: Jose Pacifico Ruiz
Eric Hoziel: Tariq Rabat
James Whelan: Mayor Frank Banchini
Key Crew:
Director: Brian De Palma
Publisher: Brian De Palma
Screenplay: David Koepp
---
Related Articles:
---