Son in Law (Hollywood Pictures Movie)
Here is everything you need to know about the amazing Hollywood Pictures movie Son in Law including casting, reviews, fun facts and more. I hope you find this listing informative and helpful!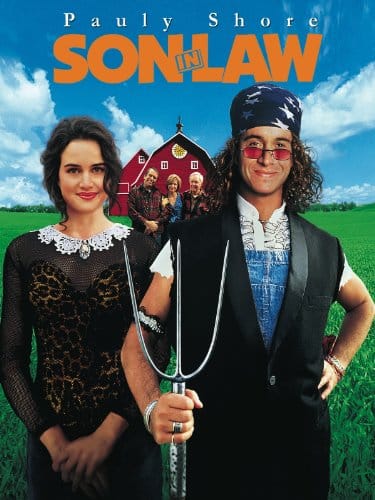 Son in Law Details:
Middle America will never be the same when comedian Pauly Shore travels to the Midwest and becomes the SON-IN-LAW. Shore stars as Crawl, L.A.'s funkiest college student, who's hilariously out of his element when he spends Thanksgiving at the family farm of a straitlaced college co-ed (Carla Gugino). Crawl's unlike anything the Midwesterners have ever seen — outside the barn that is! But before long, Crawl's plowing his way into their hearts with his outrageous antics and offbeat attempts at farming. Get ready for a truckload of laughs and a half-ton of hysteria with this totally irreverent comedy!
Key Cast:
Pauly Shore: Fred/"Crawl"
Carla Gugino: Rebecca "Becca" Warner
Lane Smith: Walter Warner
Cindy Pickett: Connie Warner
Mason Adams: Walter Warner, Sr.
Patrick Renna: Zack Warner
Dennis Burkley: Theo
Tiffani Thiessen: Tracy
Dan Gauthier: Travis
Key Crew:
Director: Steve Rash
Producers: Peter Lenkov and Michael Rotenberg
Screenplay: Fax Bahr, Adam Small and Shawn Schepps