Space 220 (Disney World Restaurant)
Here is everything you need to know about the amazing Space 220 restaurant at Walt Disney World's Epcot including history, reviews, fun facts, photos and more. I hope you find this listing informative and helpful!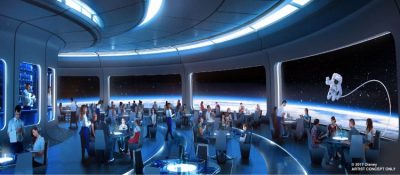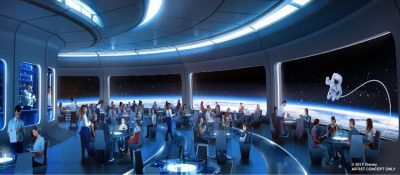 Space 220 Description:
Last summer, among the plethora of news-making Disney World announcements at the D23 expo, was a reveal that Epcot's Future World would be getting a new Space-Themed restaurant somewhere near Mission: SPACE. That is about all we were told at the time and Disney had pretty much been radio-silent about the new restaurant until recently. Many questions have been answered since and we now know quite a bit about the restaurant named Space 220. Here's what we know:
What and Where?
Space 220 is a space-themed restaurant that will be located in a currently undeveloped space in Future World between Mission: SPACE and Test Track. It is being described as an immersive dining experience with what appears to be interactive space scenes where windows would normally be located.
Here is a bit more info on the new restaurant from the Disney D23 release:
An expansion of the Mission: SPACE pavilion, the new restaurant Space 220 will be a culinary experience featuring the celestial panorama of a space station, including daytime and nighttime views of Earth from 220 miles up. Guests will board a special elevator for a journey to a space station that is home to an incredible dining experience. Along the way, viewports will give guests real-time perspective as they travel high above the planet. Once they arrive, guests will enjoy fantastic meals and drinks while taking in views that are truly out of this world.
Who and When?
It will be operated by the Patina Restaurant Group (Tutto Italia, Via Napoli, Morimoto Asia and Maria & Enzo's) and is scheduled to open on September 27,2021.
As always, I will be adding to and updating this post as new details emerge about Epcot's new space restaurant, so be sure to subscribe below and stay tuned!
Disney Park(s) in this Post:
Epcot
---
Related News:
---
Related Articles:
---