Spy Hard (Hollywood Pictures Movie)
Here is everything you need to know about the amazing Hollywood Pictures movie Spy Hard including casting, reviews, fun facts and more. I hope you find this listing informative and helpful!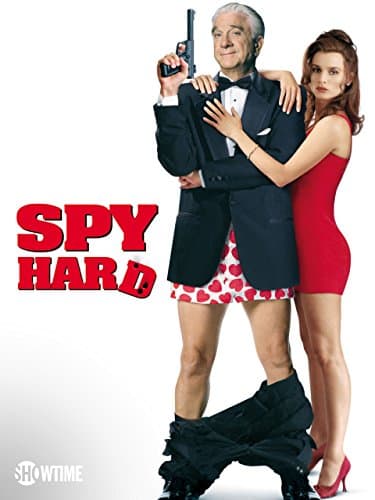 Spy Hard Details:
Funnyman Leslie Nielsen is the hilarious Agent WD-40, lured back into service by The Agency. Teamed with the sexy agent 3.14 (Nicollette Sheridan), he's sent on his hardest mission ever … to stop the evil General Rancor (Andy Griffith) before he destroys the world!
Key Cast:
Leslie Nielsen: Dick Steele
Nicollette Sheridan: Veronique Ukrinsky
Charles Durning: The Director
Marcia Gay Harden: Miss Cheevus
Barry Bostwick: Norm Coleman
John Ales: Kabul
Andy Griffith: General Rancor
Elya Baskin: Professor Ukrinsky
Mason Gamble: McCluckey
Carlos Lauchu: Slice
Stephanie Romanov: Victoria and Barbara Dahl
Joyce Brothers: Steele's Tag Team Member
Ray Charles: Bus Driver
Hulk Hogan: Dick's tag-team partner
Roger Clinton: Agent Clinton
Robert Culp: Businessman
Fabio Lanzoni: Himself
Robert Guillaume: Steven Bishop
Pat Morita: Brian the Waiter
Talisa Soto: Desiree More
Mr. T: a helicopter pilot
Alex Trebek: Agency Tape Recorder
Taylor Negron: Painter
Clyde Kusatsu: Noggin
Curtis Armstrong: Pastry chef
Tina Arning: Dancer #1
William Barillaro: Blind Driver
Michael Berryman: the man with the oxygen mask
Downtown Julie Brown: Cigarette Girl
Stephen Burrows: Agent Burrows
Keith Campbell: Thug #2
Carl Ciarfalio: Thug #1
Brad Grunberg: Postal Worker
Wayne Cotter: Male Dancer
Rick Cramer: Heimlich, Rancor Terrorist
Eddie Deezen: Rancor guard that gets spit on
Joey Dente: Goombah, Dead Wise Guy
Paul Eliopoulos: Agent #1
Andrew Christian English: Paratrooper
Johnny G: Agent #2
Michael Lee Gogin: Short Rancor guard
Bruce Gray: The President
John Kassir: Rancor guard at intercom
Sally Stevens: Vocal conductor/singer
Thuy Trang: a Hawaiian-dressed waitress
"Weird Al" Yankovic: Himself
Larry Walsh: Musician
Rawle D. Lewis: Boatman #1
Angela Visser: Georgeous Blonde
Key Crew:
Director: Rick Friedberg
Producer: Rick Friedberg, Doug Draizin and Jeffrey Konvitz
Writers: Rick Friedberg, Dick Chudnow, Jason Friedberg and Aaron Seltzer