Super Mario Bros. (Hollywood Pictures Movie)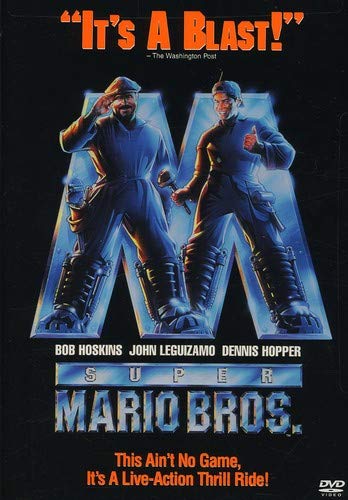 Super Mario Bros Details:
Buckle up and hang on tight — the discovery of a parallel universe launches you into the adventure of a lifetime! Mario and Luigi, two wacky plumbers, undertake a daring quest to save a princess in "Dinohattan" — a hidden world where the inhabitants evolved from dinosaurs! Mario (Bob Hoskins — WHO FRAMED ROGER RABBIT) and Luigi (John Leguizamo — REGARDING HENRY) face deadly challenges from a diaboloical lizard king (Dennis Hopper — HOOSIERS) and must battle giant reptilian goombas, outwit misfit thugs, and undermine a sinister scheme to take over the world! Blast off for nonstop excitement with SUPER MARIO BROS., the live-action thrill ride that dazzled moviegoers everywhere!
Key Cast:
Bob Hoskins: Mario Mario
John Leguizamo: Luigi Mario
Dennis Hopper: President Koopa
Samantha Mathis: Princess Daisy
Fisher Stevens: Iggy
Richard Edson: Spike
Fiona Shaw: Lena
Mojo Nixon: Toad
Dana Kaminski: Daniella
Francesca Roberts: Big Bertha
Gianni Russo: Anthony Scapelli
Don Lake: Sgt. Simon
Lance Henriksen: The Fungus King, or King Reznor
Frank Welker: Yoshi / Goombas
Dan Castellaneta: Narrator
Key Crew:
Director: Rocky Morton and Annabel Jankel
Producers: Jake Eberts and Roland Joffe
Writers: Parker Bennett, Terry Runté, Ed Solomon
---
Related Articles:
---