Surrogates (Touchstone Movie)
Here is everything you need to know about the amazing Touchstone movie Surrogates including casting, reviews, fun facts and more. I hope you find this listing informative and helpful!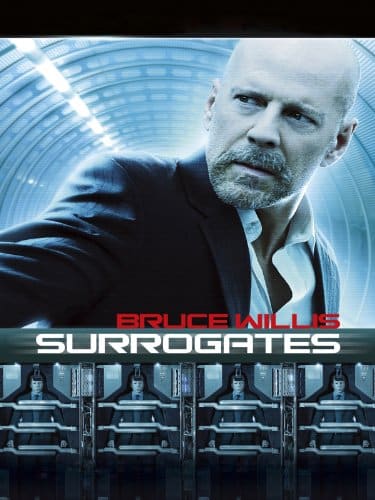 Surrogates Details:
How do you save humanity when the only thing that's real is you? In the not-so-distant future, where people experience life through perfect surrogates controlled from the safety of their own homes, murder is a thing of the past. But when a college student linked to the creator of these replicates is killed, one FBI agent (Bruce Willis) must re-enter reality and risk his life to unravel the mystery. In the battle of technology versus humanity, who can you trust? Experience every electrifying moment of this mind-blowing movie. Based on the acclaimed graphic novel and exploding with unforgettable action, SURROGATES is nonstop entertainment from start to finish!
Key Cast:
Bruce Willis: Thomas "Tom" Greer
Radha Mitchell: Jennifer Peters
Rosamund Pike: Maggie Greer
Jack Noseworthy: Miles Strickland
James Cromwell: Dr. Lionel Canter
Ving Rhames: The Prophet
Boris Kodjoe: Andrew "Andy" Stone
James Francis Ginty: Canter Surrogate
Trevor Donovan: Surrogate Tom Greer
Michael Cudlitz: Colonel Brendon
Devin Ratray: Bobby Saunders
Helena Mattsson: JJ
Shane Dzicek: Jarod Canter
Key Crew:
Director: Jonathan Mostow
Producers: David Hoberman. Todd Lieberman, Max Handelman
Screenplay: John Brancato and Michael Ferris
---
Related Articles:
---