The 13th Warrior (Touchstone Movie)
Here is everything you need to know about the amazing Touchstone movie The 13th Warrior including casting, reviews, fun facts and more. I hope you find this listing informative and helpful!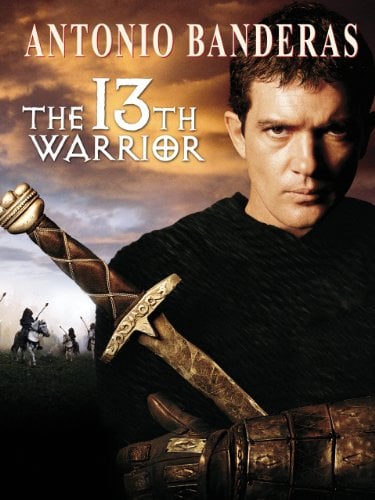 The 13th Warrior Details:
Antonio Banderas (The Mask of Zorro, Evita) brings huge star power to an immensely thrilling action-adventure from the hit-making director of Die Hard and The Thomas Crown Affair. An exiled ambassador far from his homeland, Ahmed (Banderas) comes across a fierce band of warriors who are being attacked by ferocious creatures legendary for devouring all living things in their path. When an old fortune-teller warns the soldiers that they are doomed to failure without a 13th warrior, Ahmed is given no choice but to join their battle and help conquer the mysterious enemy. Suspenseful and endlessly exciting, this exhilarating hit is sure to thrill anyone who enjoys action on an epic scale.
Key Cast:
Antonio Banderas: Ahmad ibn Fadlan
Diane Venora: Queen Weilew
Vladimir Kulich: Buliwyf (the Leader)
Dennis Storhøi: Herger (the Joyous)
Omar Sharif: Melchisidek
Anders T. Andersen: Wigliff – King's Son
Richard Bremmer: Skeld (the Superstitious)
Tony Curran: Weath (the Musician)
Mischa Hausserman: Rethel (the Archer)
Neil Maffin: Roneth (the Rider)
Asbjorn Riis: Halga (the Wise)
Clive Russell: Helfdane (the Fat)
Daniel Southern: Edgtho (the Silent)
Oliver Sveinall: Haltaf (the Boy)
Sven Wollter: King Hrothgar
Albie Woodington: Hyglak (the Quarrelsome)
John DeSantis: Ragnar (the Dour)
Eric Avari: Caravan leader
Maria Bonnevie: Olga
Susan Willis: Wendol Mother
Yolande Bavan: Wendol Mother Companion
Key Crew:
Director: John McTiernan
Producers: John McTiernan, Michael Crichton and Ned Dowd
Screenplay: William Wisher Jr and Warren Lewis
---
Related Articles:
---