The Adventures Of Huck Finn (1993 Movie)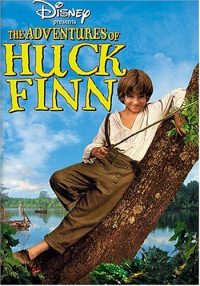 The Adventures Of Huck Finn Description:
Climb aboard for an extraordinary version of Mark Twain's sweeping adventure when Walt Disney Pictures presents THE ADVENTURES OF HUCK FINN. It's the unforgettable saga of a mischievous youngster and a runaway slave on a wild expedition to freedom. As the pair take the ride of their lives down the treacherous Mississippi River, they run into an entertaining assortment of offbeat characters and face one challenging adventure after another! You won't want to miss this sensational telling of Twain's classic tale – an action-packed mix of thrills and excitement!
Key Cast Members:
Elijah Wood: Huckleberry "Huck" Finn
Courtney B. Vance: Jim
Robbie Coltrane: The Duke
Jason Robards: The King
Ron Perlman: Pap Finn
Dana Ivey: Widow Douglas
Mary Louise Wilson: Miss Watson
Anne Heche: Mary Jane Wilks
James Gammon: Deputy Hines
Paxton Whitehead: Harvey Wilks
Tom Aldredge: Dr. Robinson
Renee O'Connor: Julia Wilks
Laura Bundy: Susan Wilks
Curtis Armstrong: Country Jake
Frances Conroy: Scrawny Shanty Woman
Daniel Tamberelli: Ben Rodgers
Garette Ratliff Henson: Billy Grangerford
---
Related Articles:
---