The Barnstormer (Disney World Ride)
Here is everything you need to know about Walt Disney World's Magic Kingdom's The Barnstormer ride including history, fun facts, photos and more. I hope you find this listing informative and helpful!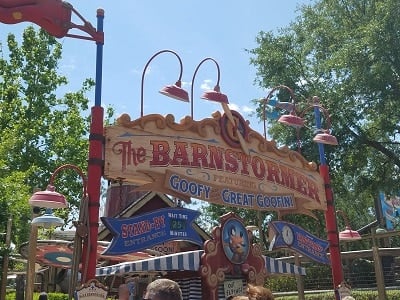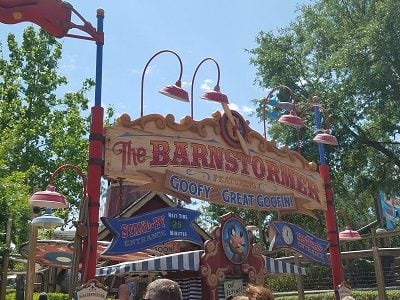 The Barnstormer Description:
Take flight above Storybook Circus with Goofy and his homemade stunt airplanes for a thrilling, junior roller coaster rid on The Barnstormer.
Climb aboard a wacky stunt plane and become a part of The Great Goofini's daredevil act.
Step underneath a grand circus marquee and make your way to an open-air barn where Goofy—known as The Great Goofini—has been known to perform his world-famous high-flying show. Once inside the red hanger, board one of Goofy's very own stunt biplanes and hold on tight as you prepare to take to the skies above Fantasyland.
A Staggering Series of Stupendous Stunts
The flying spectacle begins as your plane gracefully ascends to the top of a nearby wooden observation tower. Then, brace yourself as you rapidly swoop down and around the bustling barnyard, following the flight path made famous by The Grand Goofini. Dart around gentle bends, peel past trees and soar through the broken section of a nearby billboard before "landing" safely back inside the barn during the grand, fun-filled finale. (source)
Disney Character(s) in this Post:
Goofy